Pulling the Nose Up on a Career in Free Fall
It's very nearly time to start detailing the villain of Speed, mad bomber Howard Payne. But it's a little difficult to talk about that character without also talking about the evolution of another character, Harry Temple, Jack Traven's partner on the LAPD SWAT team who meets an untimely demise at the end of the second act.
For years of screenplay development, Harry was actually revealed to be the bomber in the end. "It was me all along!" That kind of thing. Fox would even talk to actors like Ed Harris about taking on the role in that incarnation. But after the whirlwind, last-minute rewrite period detailed in last week's episode, he would ultimately become his own character, just as Payne would become his own character. Unencumbered with the need to cast the actual antagonist with the Harry role, the search was on to give Keanu Reeves someone solid to play off of, someone who would bring some more credibility to the proceedings.
But the character was evolving still. As part of screenwriter Joss Whedon's efforts on the page, Harry would go from a tragic first-act casualty to a tragic second-act casualty that helped propel the drama into the film's conclusion. Funnily enough, actor Jeff Daniels was actually sent the script before that bit of pathos was injected.
"And so, they sent the script, and I died in the elevator shaft," Daniels recalls. "It was like page 22. I miss a step, fall, you know, 50 floors and die. And I told the agent, I said, 'The career is in trouble, but it's not in that much trouble. So, forget it.' They go, 'Well, hang on. They're doing a rewrite. You die later.' 'OK, well, I'll wait for that.' And, sure enough, I died later in the house on, like, page 80. I said, 'Great. I'm in.'"
It was a trying time for Daniels. He was coming off a string of independent projects that hadn't performed well and, in his words, had managed to squelch the goodwill he had earned out of the gate in films like James L. Brooks' Terms of Endearment, Woody Allen's The Purple Rose of Cairo and Jonathan Demme's Something Wild. He was really just desperate for a gig.
"It was a job," Daniels says of accepting the Speed role. "The career was floundering and I just told the agent, 'I need something.' The money was whatever the money was. I was happy to get it. And, you know, next thing I know, I'm wearing SWAT gear and Keanu and I are flying up and over a hill and coming in and landing and bursting into a building. I'm going, 'I don't know what I'm doing, but here I am.'"
That sort of sore-thumb quality was actually part of the thinking in casting Daniels.
"The idea was to have somebody in there that would surprise you, that you would never think would die," casting director Risa Bramon Garcia says. "We aimed pretty high with certain guys and they said no, because it was a very small part and they didn't want to get killed. But Jeff was at a great place – well, not great for him, maybe, but for us – in his career, where he would be recognizable to an audience and they would think, 'Oh, he's a costar in the movie,' and not expect him to be killed. And so, when he was killed, it had the right amount of surprise and disappointment and heartbreak. Like, it really motivated the story."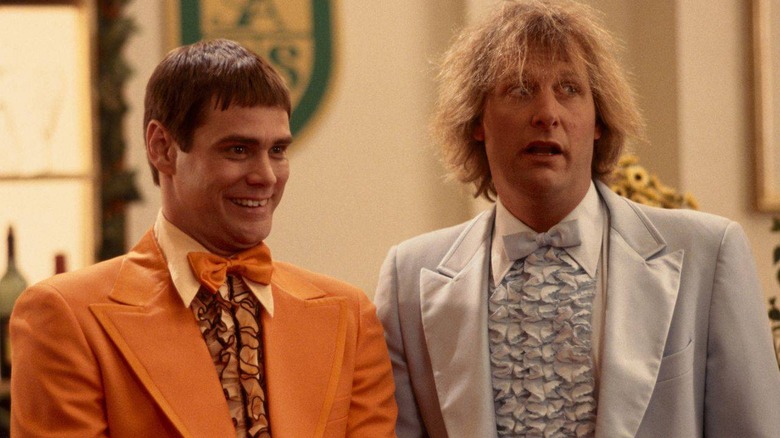 It was certainly not a role, or a movie, in Daniels' wheelhouse. He would actually never do another movie quite like Speed, but it was nevertheless part of a pivotal year for him. The film would of course open in the summer of 1994 and become a huge hit, while six months later, the Farrelly brothers comedy Dumb and Dumber, featuring Daniels opposite a skyrocketing Jim Carrey, would arrive and drive more audiences to the multiplex. By January, he was hosting Saturday Night Live again, having experienced a full-blown career turnaround.
"As Nicholson said, 'You just bought yourself five years,'" Daniels quips. "So, that happened."
And we haven't even gotten around to a little trick Daniels used in the film that he says he learned from Roy Scheider in Jaws. All of that and much more, this week on 50 MPH!