With Light the Fuse hosts Drew Taylor and Charles Hood
Ready for another list? In the wake of our deep dive into the jump sequence from Speed, it seems like a good time for a detour. How about a countdown of the greatest action set pieces of all time? For that high-octane task, 50 MPH is joined this week by Drew Taylor and Charles Hood, hosts of Light the Fuse – The Official Mission: Impossible Podcast!
To be sure, much of the agreed-upon canon shows up across the three lists, from James Cameron's Terminator 2: Judgment Day to Steven Spielberg's Raiders of the Lost Ark to John Woo's Hard Boiled. And while the parameters are clear enough, the only point of order is that the movies in question don't necessarily have to be "action movies" per se. After all, a great action sequence can come in any kind of movie.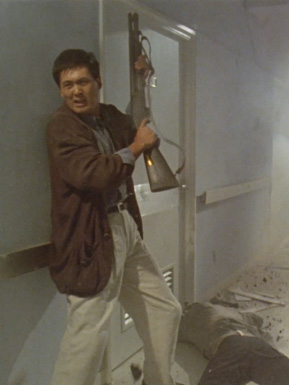 For instance, Hood chimes in for the badass "revenge tour montage" from George P. Cosmatos' 1993 western Tombstone for something off the beaten path. "It's these amazing shots, long lens, super hot on the horizon, the horses going through and then just shooting people left and right," Hood says. "And the music with these amazing timpani, like, really heavy drum stuff — it just gets me."
Taylor, meanwhile, springs for some animation with the "battle for Metroville" from Pixar's The Incredibles. "To me, it's better choreographed and better laid-out than I would say maybe every modern superhero movie," Taylor says. "It's characterization through action. It's humor. It's all those things that we want out of action sequences."
And the most recent entry in the discussion is the opening shot of Romain Gavras' 2022 French insta-classic Athena. "It is the greatest opening shot of all time for me, just a riveting moment in contemporary movies," 50 MPH host Kris Tapley says. "It left my jaw on the ground and got me so hype for the rest of the movie. I felt like I had to include it on this list."
That's all just scratching the surface. If you're looking for Die Hard, Mad Max: Fury Road, The French Connection and Jackie Chan movies, you're in the right place. So, buckle up for a 75-minute discussion that hopefully leaves no stoned unturned, from white-knuckle car chases in Paris to heart-stopping rescues in Metropolis to pulse-pounding shootouts in Los Angeles.
All of that and more on this week's episode of 50 MPH!
ANNOUNCEMENT: Enjoy the discussion this week and take a load off next week as 50 MPH steps away for the Thanksgiving holiday. We'll be right back here in 14 days for more tales from the production of Speed!
Kris Tapley's List:
Die Hard (Century City Siege)
Star Wars (Trench Run)
Mad Max: Fury Road (First Half of the Movie)
Aliens (Ripley vs. the Alien Queen)
Heat (Bank Heist Shootout)
Superman: The Movie (Helicopter Rescue)
The Lost World: Jurassic Park (RV and Cliff Sequence)
Athena (Opening "Shot")
Ronin (Paris Car Chase)
Mission: Impossible – Ghost Protocol (Scaling the Burj Khalifa)
Drew Taylor's List:
Carlito's Way (Grand Central Shootout)
Back to the Future (Clock Tower Climax)
Pacific Rim (Hong Kong Battle)
The Incredibles (Battle for Metroville)
1941 (The Raid)
Sorcerer (The Bridge)
Hard Boiled (Hospital Shootout)
Diva (Subway Chase)
The Lone Ranger (Train Chase)
Police Story (Shopping Mall Sequence)
Charles Hood's List:
Supercop (Finale)
Police Story (Shopping Mall Sequence)
Die Hard with a Vengeance (Elevator Shootout)
The French Connection (Car and Train Chase)
Raiders of the Lost Ark (Truck Chase)
Point Break (Foot Chase)
Hard Boiled (Hospital Shootout)
Tombstone (Revenge Tour Montage)
Terminator 2: Judgment Day (LA River Chase)
Mad Max: Fury Road (Finale)